Thank you to everyone that responded to my recent newsletter. I am overjoyed to know that Raw and Real is finding its audience.
And… thank you for all the responses to that news I am moving. Clients are not liking the empty barn. One suggested I buy my own house. Another said she felt like she was born here. (Oh my heart…) It makes me feel good to know that people love it. A prospective buyer told me that she could feel the love on our property. With all the lightwork I have done here, I hope it sinks into every wall and rock and blesses the next owner.
But the question remains: WHY are YOU moving????
It appears inquiring minds want to know… Why are you leaving your property? Isn't it perfect for you? What else could you need?
I love 836, I do. It's just time. Time for my retired husband to not worry about caring for five outbuildings and half an acre of yard. Time for us to find the next spot to develop into the beings we are becoming. And since you all know me, you will likely guess that energy is the bottom line for me.
When I meditated on why I felt the urge to move, my guides explained that when I came to 836, it supported me. The energy has changed, and now I am doing work to support the property.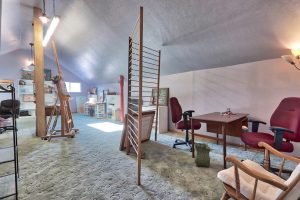 It's not good or bad. It is simply that there is a better place for me to feel supported by nature and Earth while I do my work. There's a calling, although I am not privy to the exact words yet, I am ready to open mySelf to it. As a lightworker and as a being who enjoys life. I intend to continue working and writing. And creating.
We are looking in Berthoud and Loveland, Colorado. I have a vision; the fruition remains to be seen. While we are hunting, our RV will be home. It's scary and wild and feels like freedom. The losses and memories bubble up occasionally and I sit with them. Then joy comes in and I go pack a box.
Thank you for being part of this journey. I will post more as changes happen.
This is raw and real. Bittersweet. Releasing and scary. However, I feel the light and how much this feels right.
With gratitude,
Holly
PS: That strange pic is the inside of my barn… so if you have been there, you can see new paint and missing stuff. The barn is waiting for it's new person…
PPS: Click the little icon on the bottom right to get notified when I post in Raw and Real.
Please follow and like us: